December 2, 2019 | Jim Langman
How does a winery owner choose their Thanksgiving Wines?

"One of ours. One of theirs!"
All of us in the Langman Estate Winery family hope that you and yours had a wonderful Thanksgiving holiday! We know that we are blessed to have our faith and family, and also the freedoms and opportunities we are afforded in this great country. We take none of this for granted.
Our recent launches into the states of Missouri and Kansas find us right in the middle of 41 events in a 90 day period, which means that this holiday season we will be staying close to our full-time home in Arkansas. These are not bad things at all! This does mean the we are having much smaller gatherings this year, but they are just as special as the large ones! Thanksgiving was Sue, me and our nephew Bill, (of "William's Estate Reserve Cabernet Franc" fame!).

"Special Meal. Special Wines!"
As usual, I asked Bill to go to the large wine storage fridge and, "pick out something great!".
As usual, Bill opened the door and looked at the 100's of bottles and said, "All of These Wines Have a Story!, and only you know them, Jim. You pick them out!"
My Pleasure! "Let's pick out a great vintage label and some of our new Langman Estate Winery releases!"
"One of Ours!"
Langman Estate Winery 2015 Edith's Block Barbera!
Our Langman Estate 2014 Barbera is in the December 2018 Wine Enthusiasts Wines of the Year magazine with and Editor's Choice 94 Points score! Great Wine! We are sold out! I looked past those 2014's on the shelf and chose the 2015 Barbera. Another beautiful wine and the 4th vintage of our Langman Estate Barberas which we released May 1st. (We made our first ever barrel of wine in 2012 and it was our Barbera.) I also picked out our new 2018 Robert's Muscat Canelli. (A beautiful Italian white varietal that is NOT Muscadine or Muscato. It is an off-dry wine that has an amazing bouquet of Honeysuckle, Melon and Pear and a pallet so bright that it fools you into thinking it is a semi-sweet wine. It goes with everything on the Holiday tables!)

"One of theirs!"
Perry Moore Beckstoffer Dr. Crane Vineyard 2006 Cabernet Sauvignon!
April 2009, "Wine Enthusiast's Toast of the Town, Grand Wine Tasting" event, in the Field Museum in Chicago. 200+ great reserve wines! I was determined to taste through them all in the event's 2 hour timespan! Just 15 minutes and 7 wines later I found myself looking at two gentlemen standing behind a small table with just 2 single bottles of wine and a sign that read, "Perry Moore". My first thought of this modest presentation was that these two very nice gentlemen were either home winemakers or this was something very special. The were not home winemakers! They had decades of high quality wine making experience and were making wines from legendary Napa Valley vineyards. The Dr. Crane Cabernet, below, and their 2006 Beckstoffer To Kalon Cabernet were the 2 wines. Great Wines! My personal numerical wine tasting goals for the evening were happily tossed out the window. This was special.
This was early in 2009, about 3 months before we purchased our Langman Estate property, a year before we planted our vineyard and 3 and a half years before we bottled our first barrel of wine. (The 2012 barrel). I knew at that moment that I wanted our namesake wines to be of the exceptional quality that was in my glass that night.
The gentlemen behind the table could not have been nicer nor more enthusiastic as we discussed our plans to also enter the winery business. "You have set the, 'Quality of Wine Bar', extremely high for us!", was my feedback for them. We knew that we had to acquire some of these wines but found out that they were going to only be available as an allocated wine club offering, We would have to wait. Over the next hour we sampled 20 more "Reserve Wines" of various well known producers, but none were Perry Moore. We had to have some.
Our "Benchmark" is set!
With about 20 minutes left in the evening, Sue and I made our way back to the Perry Moore table where I stuck out my hand to again shake one gentleman's hand and tell him that his wines were going to be the benchmark for ours and I needed a bottle of each that night. He was laughing and shaking his head when we released the handshake but then looked down at the 2 folded $100 bills that I had left in his palm.
"Oh, I can't", he said.
"This determines the success or failure of our winery plans!"
"This is the benchmark for our family's legacy business!"
"You're serious."
"Yes, sir!"
"This is quite a statement about our Perry Moore wines. We're honored!"
We had our treasures!
Before we bottled our 2012 barrel in 2014, we opened the 2006 Perry Moore To Kalon Cabernet with the winemaking team to set our bar very high. We sold our first wines in June 2017 and have already received four 90+ point scores on them. We will continue to keep our, "Bar of Quality", very high! One of our goals is to have others use our wines as their benchmark! Our 2015 Edith's Block Barbera, 2018 Robert's Muscat Canelli and the 2006 Dr. Crane wines were the perfect choices for our Thanksgiving dinner!
This was, "The Story!"
"Great People! Great Wine!"
Cheers! Jim Langman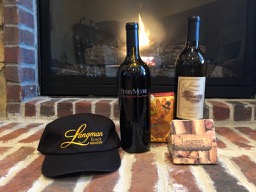 Comments
Commenting has been turned off.
Join The family!
Sign Up For Our Newsletter
Keep up to date on the latest wine releases, events, and promotions and get 10% off your next order.