FAQ'S
What days do you ship? For now, Wednesday and Friday. Orders received by Monday ship on Wednesday and orders received by Wednesday ship on Friday.
Can I pick up my order at the winery? No, we can only ship your order to you at this time. When our future tasting room is open, this option will be available.
Can we visit the winery? Not yet. Same answer as above. We can't wait for that day to happen!
What months do Club Shipments occur? For weather reasons: September, November, February, and May.
Do you/when will you, ship wine to my state? Please see the shipping chart below. It has the pricing for retail and shipping listed, as well as the states currently offered and the enrollment schedule for more states to be eligible for us to ship to. If your state is not currently enrolled, send us an email at: support@langmanwinery.com and ask for your state to be moved up to the top of the list! (please note that there are some states that forbid wine shipments into their state, Alabama, Deleware, Kentucky, Mississippi, Utah, and some who only allow wine ordered at the winery to be shipped, (like Arkansas). Contact us for questions at support@langmanwinery.com)
Are your ship dates guaranteed? Not on standard shipping. If you must, select the shipping upgrade option that has that ability. Please note that these extra shipping costs will be added to your total purchase! If you have an urgent need, contact us first! support@langmanwinery.com
Return or cancellation policy? Please click on the "Returns and Cancellations" button.
Do you ship to PO Boxes? No, we have to have a delivery to a home or place of business for direct adult-to-adult delivery and signing.
Why do you only ship on Wednesday and Friday? We want to ensure the quality of our wines when you receive them. The quality could be compromised if the wines sit on a shippers loading dock or on their truck. Please contact us for special shipping requests at support@langmanwinery.com.
If placed today, when will I receive my order? Standard Ground is about 4-6 business days and orders placed by Monday will ship on Wednesday and orders placed by Wednesday will ship Friday. You can download the UPS app to track your packages.
Why is Wine Shipping So Expensive!? See Below. Please remember that Discounts Off Retail Prices start at 3 Bottle Orders for non-club guests and these Discounts Get EVEN BIGGER as You Order More, and you get $35 Flate Rate shipping on a case, AND YOU Get Larger Discounts on Both When You Join A Wine Club!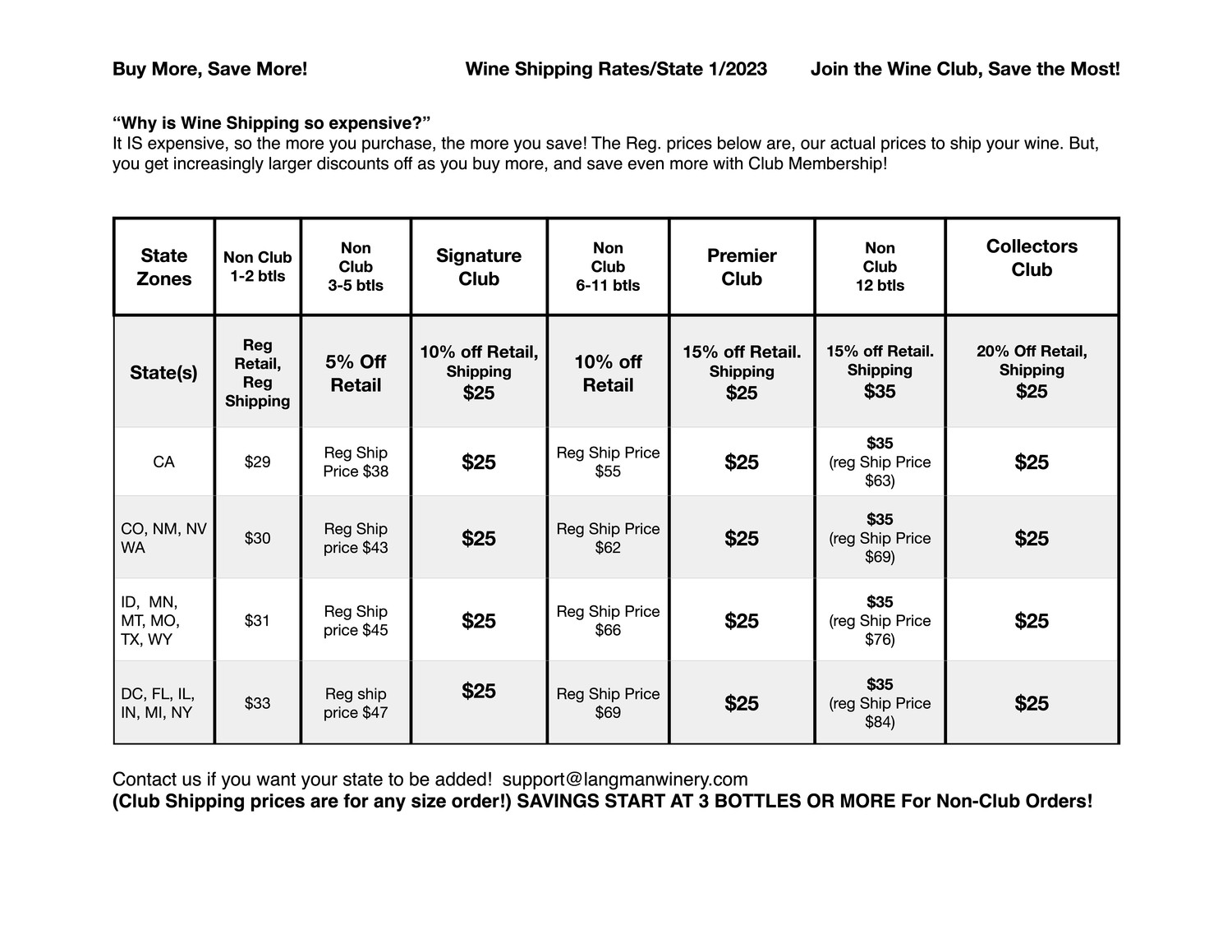 Join The family!
Sign Up For Our Newsletter
Keep up to date on the latest wine releases, events, and promotions and get 10% off your next order.