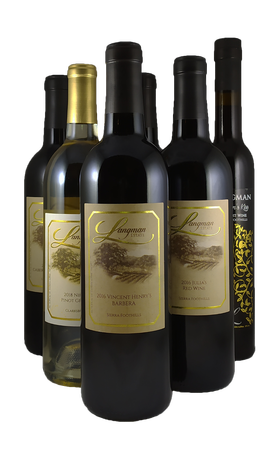 6 Pack Special! $20 Shipping!
6 Assorted Langman Estate Gems
Grand Opening Special! 6 Pack Includes Shipping!
2016 Edward's Zinfandel
2017 Joseph's Cabernet Sauvignon
2016 Julia's Red Wine
2016 Vincent Henry's Vineyard Barbera
2019 Nina's Pinot Grigio
NV Heaven's Kiss Dessert Wine
Click on the individual wines on the "Wine" tab for in-depth descriptions of each of these gems!
Note: The "Regular Price" cited includes the Standard Shipping & Handling costs on this. Sorry, we cannot offer substitutions on this fantastic offer.
More Info Click on the Bottles >>>