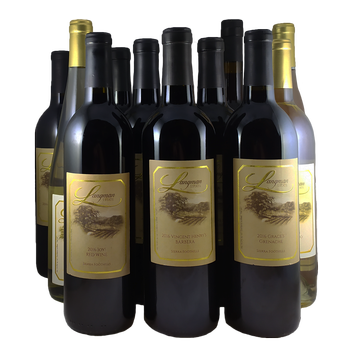 12 Pack Special! Flat Rate Shipping!
12 Assorted Langman Estate Gems
Special Offer! 12 Pack Assortment & $20 Flat Rate Shipping!
2017 Bud's Block Malbec
2016 Edward's Zinfandel
2016 Grace's Grenache
2017 Joseph's Cabernet Sauvignon
2016 JOY! Red Wine
2016 Julia's Red Wine
2016 Raymond's Rows Petite Sirah
2016 Vincent Henry's Vineyard Barbera
2018 Lovie's Rose'
(2) 2019 Nina's Pinot Grigio
Heaven's Kiss Dessert Wine
Click on the individual wine bottle pictures on the "Wine" tab for in-depth descriptions of each of these gems!
Note: The "Regular Price" cited includes the Wine RetailPrices + Shipping/Handling) We are sorry that we cannot offer any substitutions on this very special offering. For other purchases - Join a Club and Save the Most!, and remember that savings start for everyone else at 3 bottles or more!
More Info Click on the Bottles >>>