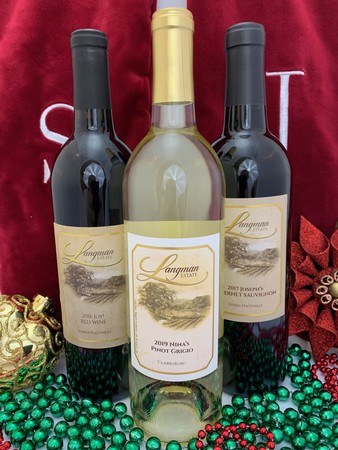 3 Pk Christmas Special! $79 Includes Shipping!
Free Shipping!
Nina's Pinot Grigio: An Italian style, great food pairing, year round, American Pinot Grigio! This is an excellent food pairing wine that has a lovely bouquet of lemon, peach, pineapple and eucalyptus. Your palate springs to life with peach, papaya, green apple and citrus fruits! Exciting!
Our estate Cabernet Sauvignon. This is a full-bodied, long finishing wine with exquisite fine tannins. A beautiful bouquet of violet, caramelized pomegranate and dark cherry proceeds a lush, well balanced palate of blackberry pie, caramel and dark cocoa. Passion!
JOY! Red Wine is our bolder and more fruit forward blend. The wines will change each vintage, but the virtues will remain constant. The 2016 JOY! Red Wine is a full-bodied, sophisticated, elegant and complex expression of these virtues with a lush bouquet of dark fruits and vanilla that finishes with a delightfully haunting palate of black cherry, caramel and currant. Unforgettable!
No Stress, In Stock, Christmas Value Shopping!