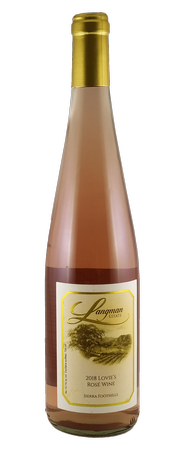 2018 Lovie's Rose' of Primitivo
More Info Click on the Bottle >>>
Wine Specs
Appellation
Sierra Foothills
Vineyard Designation
Langman Estate
Wine Profile
Tasting Notes
The Wine! This is an excellent food pairing wine with wild flowers and raspberry aromas that yield to a bright palate of raspberry and baby grapefruit. Lovely!
Vineyard Notes
2,400 foot elevation, crushed granite soil, south facing vineyard in the Sierra Foothills in California. High Desert. For about 7 months each year, the humidity is below 25%, diurnal temperatures of 93 daytime and 58 nighttime and almost no rain for the entire growing season. Perfect place to grow great wine grapes!
Winemaker Notes
Winemaker's Notes: Another long, hot and dry growing season on the Langman Estate vineyard in 2018. After a very wet winter the grapes matured very slowly and evenly into the end of September and well into October. There were many large fires across the state of California in 2018, but we were fortunate that the closest ones were 100+ miles away from our property.
Other Notes
These are Rose' Specific clones of Primitivo.