Coconut Rice Pudding with Peach, Ginger, and Cardamom Paired with Heaven's Kiss Dessert Wine!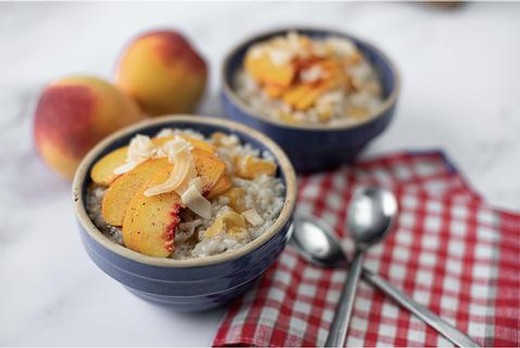 Recipe Date:
October 1, 2020
Measurements:
Imperial (US)
Recipe from The Peach Truck. Easy Dessert or Breakfast with layers of Complicated flavors.
Ingredients
1 2 inch piece of Fresh Ginger, peeled and smashed
2 Cardamom Pods, crushed
6 1/2 cups Unsweetened Coconut milk
1 cup Arborio rice
1/2 cup Light brown sugar or honey
3/4 tsp Salt
2 Large Peaches, coarsely chopped (about 2 1/2 Cups).
1 Vanilla Bean, split lengthwise
2 Peaches thinly sliced
1/2 cup Sweetened coconut chips or toasted unsweetened coconut flakes
Freshly grated nutmeg to your taste
Directions
Combine ginger, cardamom, coconut milk, rice, sugar, salt and chopped peaches in a Dutch oven. (Dutch oven is a thick -walled cooking pot with a tight lid, used on the cooktop burners.) Scrape seeds from vanila bean and add to pot along with the pod
Bring to a boil over medium high heat; cover, reduce to simmer, and cook 15 minutes or until rice is just tender.
Uncover and simmer 10 minutes longer, stirring frequently, until thickened.
Remove from heat. Remove and discard vanilla bean pod, cardamom pods, and ginger.
Divide rice pudding evenly among serving dishes. Top with sliced peaches, coconut chips, and sprinkle with nutmeg..
May be served warm or cold.
Join The family!
Sign Up For Our Newsletter
Keep up to date on the latest wine releases, events, and promotions and get 10% off your next order.