Blissful Rosemary Chicken paired with Robert's Muscat Canelli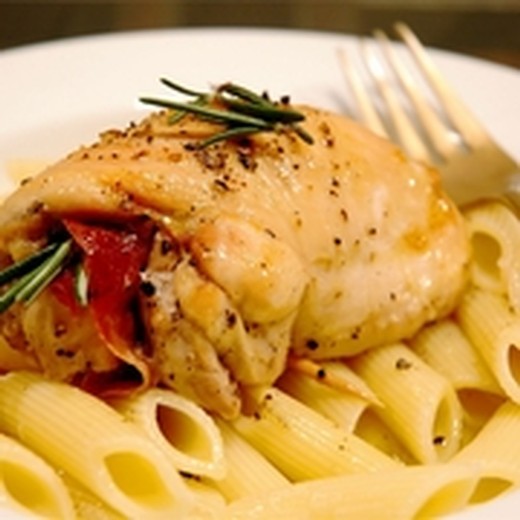 Recipe Date:
September 21, 2020
Measurements:
Imperial (US)
Blissful Rosemary Chicken Roll with prosciutto and cheese, seved with rosemary sprigs, and marinate (or not)
Ingredients
4 Sprigs, Fresh Rosemary
4 Skinless, boneless Chicken breast halves. Pounded to 1/4 of an inch
4 Slices smoked Fontina cheese
4 Slices prosciutto cheese
1/2 cup White Wine. Langman Estate Pinot Grigio or Muscat Canelli
1/4 cup Chicken Broth
1/4 cup Olive Oil
1 tbsp Freshly Ground Black Pepper
4 Cloves Garlic Halves
1/4 tsp Salt to taste
8 ozs Pasta of choice
1/2 tsp Salt in 2 quarts boiling water
Directions
Use a knife to sharpen the thick ends of the rosemary sprigs. Soak sprigs in water for at leas 10 mnutes
Preheat oven to 425 degrees F
Layer each chicken breast with 1 slice fontina and 1 slice prosciutto. Roll tightly, and skewer eachh with a rosemary sprig to secure.
In a bowl, whisk together the wine, broth, oil and pepper. Pour into a medium baking dish.
Place rolled chicken breasts in the dish. Place 2 garlic halves under each breast.
Bake 25 minutes in the preheated oven, until chicken juices run clear.
Boil 2 quarts of water, and add 1/2 tsp salt and 8oz of pasta to boiling water, and cook for 10 to 12 minutes or until tender. Stir occasionally, avoid over cooking. Remove from heat and drain.
Remove chicken from baking dish, reserving sauce, and allow to stand 5 minutes
Transfer remaining sauce to a sauce pan and bring to a boil. Place chicken over pasta and drizzle sauce over chicken and pasta. Season with salt to taste.
Thanks to Allrecipes Magazine
Join The family!
Sign Up For Our Newsletter
Keep up to date on the latest wine releases, events, and promotions and get 10% off your next order.