Beef Bourguignon and Cabernet Sauvignon, Joseph's Langman Estate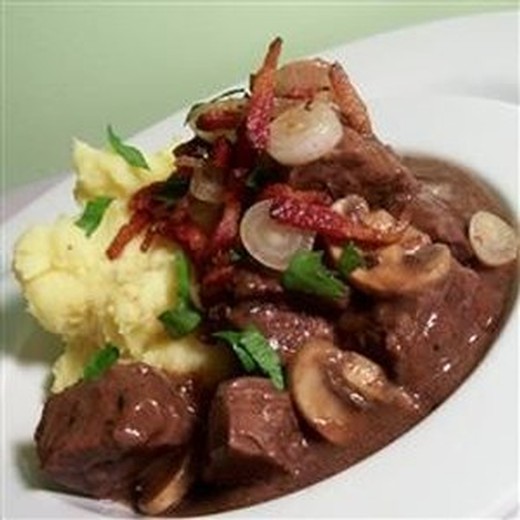 Recipe Date:
August 7, 2020
Measurements:
Imperial (US)
Choose from multiple Langman Estate Red Wines to pair with this dish! Thanks to Allrecipes!
Ingredients
2 lbs Lean Stew Beef
1 cup Langman Estate Joseph's Cabernet Sauvignon!
4 Sprigs of Fresh Parsley
1 Sprig Fresh Thyme
1 Bay Leaf
4 tbsps Butter
1 Onion, Sliced
1 tbsp All Purpose Flour
1/4 cup Beef Broth
Salt & Ground Pepper to Taste
2 tbsps Butter
4 ozs Bacon, Chopped
12 Small Onions
4 ozs Button Mushrooms, Sliced
Directions
In a medium bowl, combine beef, wine, parsley, thyme and bay leaf. Let marinate for 3 hours.
Remove beef; strain and reserve marinade.
Heat 4 tablespoons butter in a large heavy saucepan over medium high heat. Saute the sliced onion until tender. Stir in beef, and cook until evenly brown. Remove beef and onion; set aside.
Add flour to pan, and cook, stirring, until brown. Slowly stir in beef broth, then the reserved marinade. Return the beef mixture to the pan. Cover, and simmer for 3 hours.
Heat 2 tablespoons butter in a medium skillet over medium high heat, Stir in the bacon and small onions, and saute until onions are tender. Add mushrooms, and continue cooking until mushrooms are golden brown. Serve as a garnish.
Join The family!
Sign Up For Our Newsletter
Keep up to date on the latest wine releases, events, and promotions and get 10% off your next order.