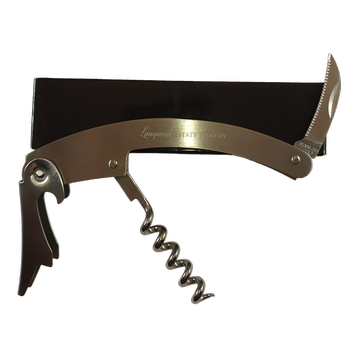 Engraved Stainless Steel Corkscrew
Official Winery Product
Stainless Steel Engraved Corkscrew
Classic waiters' corkscrew has three-in-one potential to power your celebration!
The compact folding wine tool features a corkscrew, bottle opener and serrated blade for removing foil and wrappings.
Durable stainless steel construction means that this keepsake gift will equip your wine bar area for years to come!
Size: 4-3/8" x 1-1/8" x 1/2".
Laser engraved winery logo on the side of the opener.
Price: $12+ shipping/tax
FREE SHIPPING on Winery Merchandise purchases over $25!
Wine Club Memebrs get 20% off Winery Merchandise! Join Today!
More Info Click on the Bottle >>>