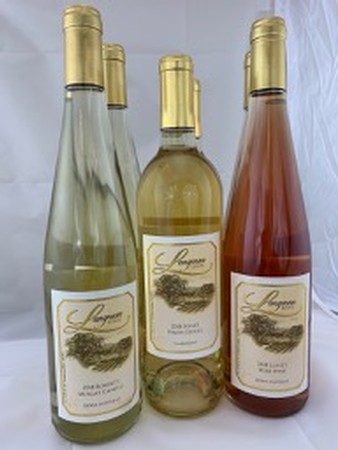 6pk Spring Fling Special Includes Shipping
Perfect Entree into Spring 2021
Spring Fling 6 Pack Includes Shipping!
(2) 2019 Robert's Muscat Canelli - This is NOT a Moscato or a Muscadine. This is an Italian varietal that is considered off-dry. This means your palate thinks there is trace of sweetness in this wine, when it is actually tasting the incredibly bright fruits that this wine grape varietal naturally presents. Honeysuckle, pear and melon. Great in a glass but this wine also pairs incredibly well with a very wide range of foods. Our Langman Estate Robert's Muscatr Canelli pairs with many more foods than Sauvignon Blanc, Reisling or Chardonnay wines. The Cure!
(2) 2018 Lovie's Rose'- Our Rose' of Primitivo. A French style Rose' made from a Rose'-specific clone of an Italian varietal! What a combination! Another great food pairing wine, with wild flowers and raspberry aromas that yields to a bright palate of raspberry and grapefruit. Lovely!
(2) 2018 Nina's Pinot Grigio- Our Italian style Pinot Grigio. This is an excellent food pairing wine that has a lovely bouquet of lemon, peach, pineapple and eucalyptus. Your palate springs to life with peach, papaya, green apple and citrus fruits! Exciting!
Go to the main "Wine" page for more wine details.
Click on bottles for more info!